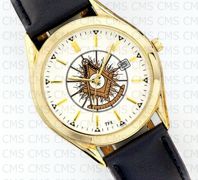 The Online Masonic Watches, Regalia, Rings & Gift store!
Serving the Masonic Fraternity – owned and operated by Freemasons
Masonic Supply Shop is a distributor of quality Masonic Watches and other Masonic regalia and supplies at competitive prices, serving the Masonic fraternity. Please do not hesitate to contact us for either a quotation or assistance regarding your order or our products.
We are adding more products every month. Please check back at our website frequently.

Secure Checkout – We Accept Secure Credit Card Payments (VISA, MasterCard), PayPal and Lodge Checks and we are pleased to offer International Shipping.
Masonic Watches Categories
New Masonic Ties
CARAVELLE BY BULOVA ...
Black toned stainless steel bezel with white hour, minute and sweep second hand..
Price: $179.99
CARAVELLE BY BULOVA ...
Masonic watch. Stainless steel gold colored bezel with hour, minute..
Price: $179.99
CARAVELLE BY BULOVA ...
Large 38mm bezel with date function. Fine quartz movement, white round face.&nb..
Price: $169.99
BULOVA WATCH
Super slim black masonic watch is water resistant to 3 ATM.
42mm stainless steel ..
Price: $323.99
Masonic Dress Gloves

White Poly Cotton Blend Dress Glove with Masonic Gold SQ & C Emblem on Royal Blue background on back of Glove

These are very popular as they are good value for the money and last longer than the pure..
Price: $8.50
Traditional Glass Tumbler ideal for a Wee Dram or two of good Malt Whisky ! " Nectar of the Gods"

Royal Arch Past Ist Principals (High Priest Z ) Breast Jewel with red tipped crown jewel has the tree Principal officers Sceptors forming a tri-angle with the Mark Kope Stone in th..
Price: $98.95